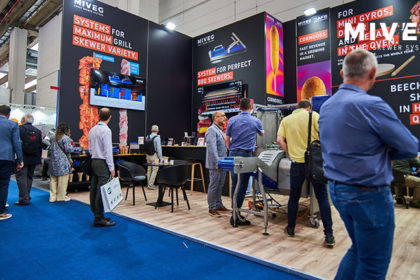 MIVEG draws a positive conclusion from IFFA 2022, not least because of the new and well-attended stand in Hall 8. "Our skewer machines and system solutions for fully automated grill skewer production met with a very positive response. This shows us that our special machines for more variety and automation in the skewer business are hitting the nerve of the times," says Lars Kracker Managing Director of skewer specialist MIVEG. 
Skewers are a must, whether in butcher shops or supermarkets, and no longer just for the barbecue season. At the same time, consumer demands have changed. In the meantime, there is a demand for a lot of variety with changed eating habits. On the other hand, there is a shortage of skilled workers and enormous price pressure on manufacturers. MIVEG's machines take these requirements into account: they offer maximum variety, automation and thus better utilisation and profit opportunities. 
The topics of automation and production optimisation were at the forefront of the minds of those interested in the ASP system. This innovation from MIVEG combines automatic loading, high-speed skewering and robot-assisted removal of the finished product. And thus enables autonomous production of up to 7200 skewers per hour.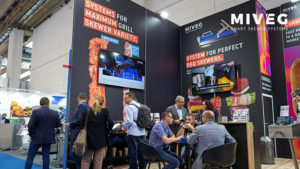 Artisan producers were particularly interested in the diverse possibilities of the manual skewer machines. With the integrated cassette technology, not only traditional shish kebabs but also wave, minced meat, saté skewers and many other delicious grill skewer variants can be produced. And even up to 480 times an hour, by hand. Those interested in the stick systems were delighted to receive preparation tips and instruction videos for easy skewer production. 
Do you have any questions. Write to us or call us:
MIVEG GmbH
Automated Food Systems – European
Am Sandfeld 17
DE-91341 Röttenbach
Tel: +49 9195 99 99 20
Mail: info@miveg.de