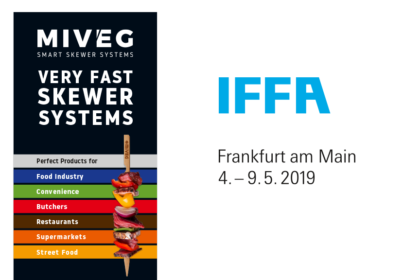 We are glad you came over.
It was a very well attended IFFA 2019. Thank you so much for being at the international trade fair for the meat industry. We were very pleased to have you at our fair stand. Since we've already arrived a few days earlier to build our stand and install all products and systems, we wondered if and how you might like it. It was amazing. We had plenty of interesting conversations. You inspired us with new questions and pulses. A special thanks to you. We gladly provide you with an overview of the days, including to those ones, who couldn't join this time. Next time, you'll be there for sure :).
Automation for skewer production. The latest topic at our fair stand.
Customers' requirements are: "Food must be produced in the shortest amount of time, best quality and ready to sale." This is only feasible with professional, automated systems. Skewer-automations, ideally with variable output and quality that makes the skewer look hand-made. MIVEG, specialist for fast, automated skewer systems presented a variety of safe solutions at stand A22. Experts from industry, crafts and commerce got convinced by automated and semi-automated MIVEG systems.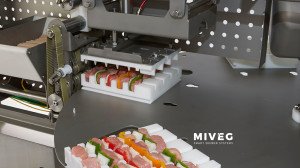 Lead-in to skewer automation. No risk at best, and smart.
Many businesses look for a safe entry to produce skewers reliably and automated. The most crucial point is to make the right decisions, without burning money. There's nothing more expensive than investing in a food system that doesn't run smoothly. An investment must be profitable for companies. The skewer system has to be guaranteed fail-safe and reliable for years. It also has to be universally functional and needs to offer a big variety of products for meat, fish, vegetables or fruit.
MIVEG knows all processes, risks and challenges for skewer automation. Customers who decided to use MIVEG for skewer automation, were able to avoid a multitude of malfunctions in their skewer production.
MIVEG offers a reasonable and safe lead-in to skewer-automation with the "Skewer System 1440". Our customers produce up to 1440 sets of prepared skewers per hour. No matter if you use meat, poultry, minced meat, cheese, fish or vegetables. The Skewer System 1440 is ideal for production-to-order manufactures.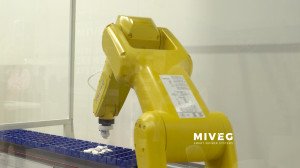 Getting into robotics, but how? Just like this!
Our state-of-the-art development. Our study, a robotic system that equips and removes the skewers. The study demonstrated just this for six days nonstop what it is all about: synchronized clocking in accordance with production speed of our skewer systems. MIVEG offers individual concepts in close collaboration with our customers.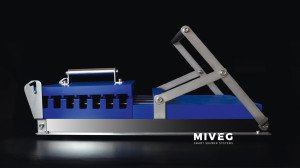 Simple and fast systems that counteract staff shortage.
The industry suffers from staff shortage. Companies don't have enough employees and too few qualified specialists. Butchers, food businesses and commerce need practical and pragmatical systems, that enable a wide variety of products and profitability despite the scarcity of staff. That's why the Stick System 480 and Stick System 108 were of great interest at our fair stand. For manually produced skewer products in highest quality and without increased personell expenses.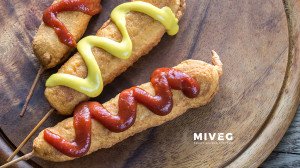 Corndog? New and exciting for many.
Even our business partner AFS Automated Food Systems, Inc. from USA arrived for the IFFA 2019. They are the specialists for Corndog systems. Corndog, a stuffed dough on a skewer – sounds like an attractive new product for us Europeans, plus it has huge growth potential. The corndog raised a number of questions in the crowd that were answered in detail by AFS – Automated Food Systems.
MIVEG is the authorized European distributor of corndog systems. If you are interested in corndog systems, please let us know.
For further information about our products and systems, please visit our website at www.miveg.de
Best regards, 
Lars Kracker, Miveg GmbH