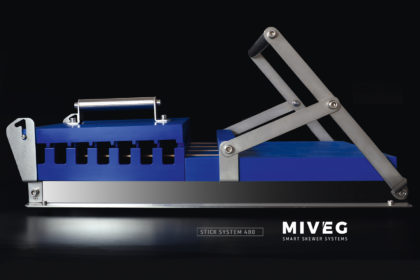 MIVEG presents professional skewer system for more revenue at the counter.
• 480 ready for sale prepared skewers per hour
• Fast manufacturing with no risk of injury
• Skewers looking like hand-made
• For meat, sausage, poultry, cheese, fish, fruit and vegetables
Röttenbach, 27. März 2019. MIVEG, Specialist in economical skewer production, presents a professional skewer system at IFFA for up to 480 skewers per hour.
MIVEG is the manufacturer for efficient skewer systems and the expert in high-speed automation. By gaining insights in skewer technology over the past 40 years, a new manual skewer system has emerged, the "Stick System 480" for butchers' trade, restaurants, supermarkets and street food. 
Up to 480 shashlik-or woven skewers per hour.
With the Stick System 480 you can produce up to 480 skewers per hour. From traditional meat skewers to antipasti-skewers to woven skewers, there are many different applications possible with only one system.
Fast manufacturing without risk of injury.
With a robust sliding system made of stainless steel, the skewers look hand-made while being prepared much easier and without any risk of injury. Every product is finished to perfection, resulting in a safe routine and promptness.
Fast variety, individual solutions.
The Stick System 480 processes round skewers from 3,2 to 3,8 mm in diameter and lengths from 80 to 250 mm. Besides processing round skewers, there are also flag skewers and flat skewers possible. For exceptional customer requirements MIVEG produces individual product moulds.
MIVEG technology enables great revenue and growth potential in growth markets like barbecue, convenience, street food and fresh counters. "Our customers think about the type of product they want to manufacture. We bring it straight to the skewers. That's how easy it is" according to Lars Kracker, CEO of MIVEG GmbH.
Other than the Stick System 480, MIVEG presents wrap systems for grill stick production at the IFFA, automated skewer systems and suitable skewers from beech, birch and bamboo.
Allow yourself to be convinced by our competence at the IFFA in hall 9.0, stand A22.