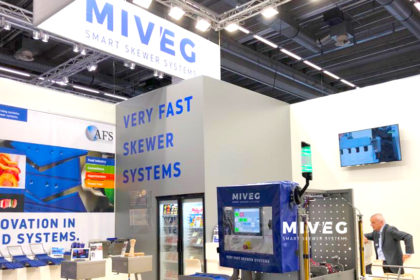 MIVEG presents automated skewer system for up to 5 million skewers per season.
• Output according to plan
• Patented for perfect skewering
• Skewers looking like hand-made
• For meat, poultry, mince, cheese, fish, vegetables
Röttenbach, 11. März 2019. MIVEG pMIVEG presents super fast high-end skewer system. Optimized process for a more economical skewer production for the food industry, convenience food and street food.
MIVEG, leading in skewer machine development for more than 40 years has optimized skewer production. New procedures enable production for up to 5 million skewers per season.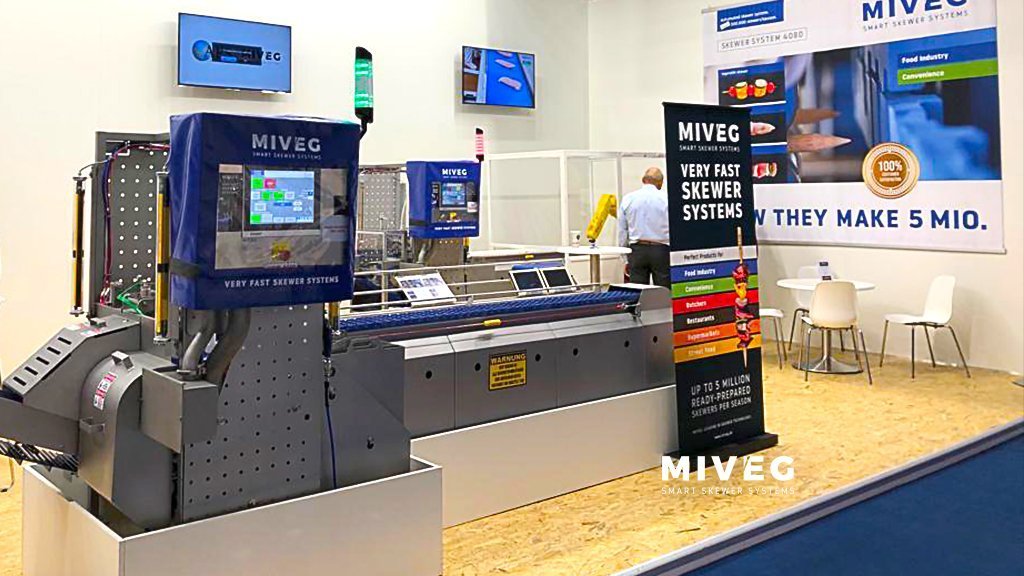 Output according to plan – guaranteed
Adjustable production speed provides a predictable output for each day. Every phase is individually selectable. This allows an output of 8-68 skewers per minute. Per hour this adds up to 4080 already prepared skewers, in highest quality.
Patent for perfect skewering.
MIVEG guarantees optimal output with minimal discard due to the patented skewer supply. This facilitates maximum capacity for the grill skewer production – a crucial advantage for seasonal business with short and high peaks.
Skewers looking like hand-made.
MIVEG ranks as the inventor of serial production of hand-made looking skewers. MIVEG recognized early that customers greatly value the visual quality of already prepared grill skewers. With MIVEG systems every skewer is finished to the highest quality taking steady production into consideration: centrally, softly and fluffily skewed without gaps.
Individual skewer production for meat, poultry, mince, cheese, fish and vegetables.
Fast, easy and straightforward: you can get meat, poultry, mince, cheese, fish and vegetables on a round or flat skewer.
short or long
with or without logo
in lengths between 100 to 250 mm

Product change within 20 minutes.
If a customer wants to change the product, he can do so with the systems 4080 and 1440 within 20 minutes. Every magazine can be unloaded individually and exchanged. MIVEG manufactures product magazines for the assembly of customized skewers individually to the customer's request, blazingly fast by 3D printing and after release in serial production.
Integrated cleaning.
The optimal Clean in Place module (CIP) gets rid of fat and marinades without any residue and guarantees therefore maximum sanitary standards and steady quality results. (It is compatible with common CIP-systems and therefore quickly applicable). 
Further automation modules are planned this year.
"Skills shortage forces the industry to more and more automation", says Lars Kracker, "and we already offer solutions in close collaboration with our customers." 
MIVEG Systems. Reliable investments to make money
technology enables great revenue and growth potential in growth markets like convenience, street food and fresh counters.
"Our customers think about the type of product they want to manufacture. We bring it straight to the skewers. That's how easy it is. Customers who choose MIVEG make a lot of money with their skewers" according to Lars Kracker, CEO of MIVEG GmbH.
Allow yourself to be convinced by our competence at the IFFA in hall 9.0, stand A22.