Finally earn money with minced meat.
Dear reader,
Meat processing companies are struggling with high personnel costs, a ban on work contracts, a lack of flexibility, lower added value and increasing renunciation of meat products.
In this report, MIVEG shows how grilled meat and convenience producers can finally earn money with minced meat.
We document how one employee produces more than 40,000 minced meat skewers. Ready to sell. In one shift, every day.
Find out about a new system that guarantees maximum efficiency:
Minced meat skewer production in large numbers.
Maximum output at seasonal peak times with just one employee
Immediate product change in 20 minutes.
Manufacture of value-adding products for flexitarians, vegans and meat lovers.
Manufacture of skewer products that triple sales of minced meat.
Read about the new opportunities to be more successful with minced meat products.
This study is representative for the German market and also serves as a reference for Europe. On request, you can optionally receive a study adapted to the European market at a later time.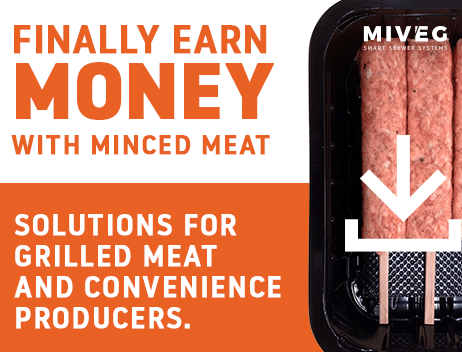 Fill out the form below and you will receive the report on the subject of »Finally making money with minced meat« directly in your mailbox.